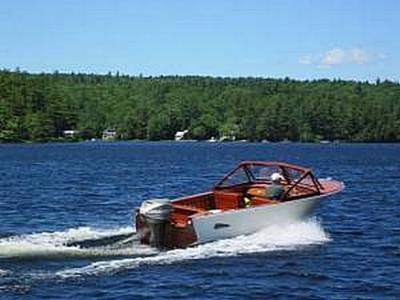 That's a sistership. She's a '61 Cruisers Inc. runabout with the standard 75 horse Johnson. The one I'm looking at has the 100 hp sterndrive option.
Regular readers will know that I've been wrestling with the boat purchase conundrum for years. Conundrum number one is how to sell the idea to the Farm Manager.
"What, you bought a fucking boat? A FUCKING BOAT??? What about that greenhouse window for the living room? What about the new roof? What about the new drywall on the dining room ceiling?"
Ya, it would take some masterful negotiating skills to talk my way out of all that shit...
Masterful negotiating skills are unfortunately not part of my toolkit.
I'm plotting various strategies here. First off I claimed I'm buying it for Junior. Now, that's somewhat problematic because Junior has never expressed the slightest interest in boats.
But I've got a plan "B."
I'm not quite sure what it is yet, but I'll keep you posted!